John Calvin thought the wife of a husband is "the inseparable associate of his life."[1] She complements him, and nothing, he thought, ought to "[yield] more advantage or comfort to the wife than to be subject to her husband." The husband, likewise, complements his wife. He provides authority and leadership, conditioned by a gentle love and prudence, patience and security.[2]
These principles of biblical complementarity are certainly no stranger to pastors shepherding married couples in their congregation. A good pastor will display these in his own marriage, and he will seek to teach them with the same clarity of the biblical texts from which they are derived. There is, however, wisdom in going further—that is, to show what biblical complementarity is not. For while in many church contexts complementarianism is readily embraced and agreed upon, members in these contexts may nevertheless be unprepared to identify—and defend against—unbiblical counterfeits of the biblical traits for husband and wife. Indeed, one can affirm the idea of complementarianism and yet not complement his or her spouse well. Pastors, thus, would do well to help spouses uncover sinful characteristics that mask as faithful love.
The Husband
Take for example the biblical and unbiblical distinctions of a husband's conduct illustrated in the following diagram.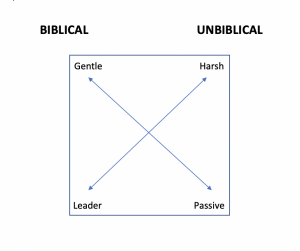 The Bible commands the husband to lead his wife. He is the head of his wife, as Christ is head of the church (1 Cor. 11:3, Eph. 5:23). He is responsible with presenting her as more spiritual before the Lord, sanctified in His word as Christ sanctifies the Church (Eph. 5:25-28). The husband is also called to lead with gentleness and love, exercising patience as he builds her up with grace and affection. Calvin thought that the authority a man has over his wife must always be tied to a love and respect for her.[3]
Together these biblical traits of leadership and gentleness, then, are distinguished from passivity and harshness. Leadership is distinguished from passivity. Gentleness is distinguished from harshness. But as the diagram shows, we must be aware of two things further. First, harshness is the unbiblical perversion of the command for the husband to lead his wife. And second, passiveness is the unbiblical perversion of the command for the husband to be gentle with his wife.
Thus, while leadership is distinguished from passivity, it can also be a guise for the sinful category of harshness and insensitivity toward the weaker vessel; and harsh men pretending to be leaders are not loving their wives well. Likewise, while gentleness is distinguished from harshness, it can often be a cover for the sinful category of passivity, or the abdication of the responsibility to lead. Passive men acting under the semblance of gentleness as they fail to take an active role in their wives' sanctification do them no loving service.
The Wife
 The same framework could be applied to the biblical and unbiblical conduct of a wife toward her husband.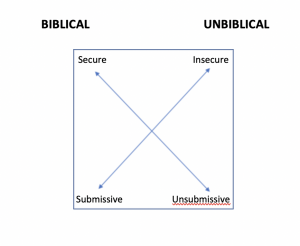 The Bible commands that a wife submit to her husband, as to the Lord (Eph. 5:22; Col. 3:18). She is to honor him with respectful and pure conduct as she follows his leadership as his helper (1 Pet. 3:1-3; Gen. 2:18). The Bible also calls for the wife to be dignified, worthy, and secure in her identity in Christ. She is to possess a noble character, which is the crown of her husband, and to be clothed with strength and dignity (Prov. 12:4; 31:25). Her confidence in her worth is not contingent upon her performance in serving her husband but upon the perfection of Christ and in the value of the calling He has given her as a wife.
These biblical traits of submissiveness and security in Christ are thus distinguished from the unbiblical traits of unsubmissiveness and insecurity. Yet, as with the discussion on the husband's conduct, it is important to consider two further issues that challenge biblical wifehood. First, while a wife's insecurity can be the result of several private sins (i.e., thwarted pride, or the fear of man), or even the sins of others against her, it can also be a perversion of the biblical command to submit to one's husband. Second, the sinful category of unsubmissiveness is a perversion of the biblical call to security and dignity in Christ.
Therefore, while submissiveness to one's husband is distinguished from unsubmissiveness, it nevertheless can be a guise that perpetuates a wife's insecurity. She must see that to be quiet and meek, to serve and honor, is not to cheapen a her worth, nor to make her identity contingent upon her duty. The appearance of submissiveness can, however, act as cover for insecurity in marriage which is a failure to trust in God's wise design. Likewise, while a wife's biblical security in her worth and identity in Christ is to be distinguished from unbiblical insecurity, the appearance of security can be a front for unsubmissiveness. A wife must be keen not to confuse the biblical qualities of confidence and strength as warrant for quarrel or disgrace against a godly spouse.
Application
Pastors, then, who would see that the spouses in their congregation complement each other well, and guard against unbiblical counterfeits, ought to consider these conclusions. For husbands: leading and loving are not mutually exclusive. A husband does not need to be passive to be gentle, and he does not need to be harsh to lead. For wives: submissiveness and security in Christ are not mutually exclusive. A wife does not need to be unsubmissive to be secure, and she does not need to be insecure to be submissive. As you shepherd your flock, train your husbands and wives to probe the biblical categories of complementarity, lest sinful perversions of those categories steal the joy of their union, that "mysterious intercourse which we have with Christ."[4]
---
[1] John Calvin, Commentary on Genesis, translated by John King, Volume 1 (Grand Rapids, MI: Baker, reprinted 2003), pp. 130-31.
[2] Calvin, Commentaries on the Catholic Epistles, (Bellingham, WA: Logos Bible Software, 2010), p.99.
[3] Calvin, Commentaries, p.99
[4] Calvin, Commentary on Galatians and Ephesians, trans. William Pringle (Grand Rapids: Baker Books, reprinted 2003), p. 322-23